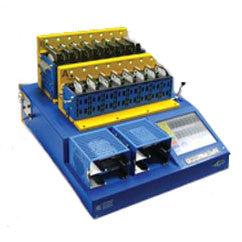 ICS Rapid Image 7020CS Forensic 3.5" SAS/SATA/IDE/CF/uSATA Hard Drive Duplicator - (F-GR-0022-000E)
---
Questions?
Call us at Toll Free # 866-817-4094
The Rapid Image Forensics Multi-Drive Line of ICS Data Acquisition devices marks a New Age in Forensic Imaging. The Rapid Image Forensics Station is designed with today's advanced drive interface technologies and today's advanced processors, to facilitate the High Volume, Forensic Data Acquisition projects demanded by today's Forensic Lab environment. The Rapid Image Forensics Station provides Investigators with the unique capability to Simultaneously Capture up to 10 Suspect drives to 10 individual Evidence drives with minimal effect on performance. This Versatile Data Acquisition device also supports Sequentially Capturing and Uploading data from up to 20 Suspect drives for Archiving, Sharing or future Analysis. The process of Uploading data can be automated without the need of starting multiple acquisition operations. Network Uploads using the unit's native 1Gigabit Ethernet interface offers speeds exceeding 2GB/min*, and speeds exceeding 4GB/min when using the unit confi gured with an Ultra-High Speed Network Interface Card such as a 10Gbit NIC**.
**Speeds are highly dependent on the Network Environment in use and therefore can vary.
**10Gbit PCIe NIC Cards sold separately.
Features
High Speed:

The Rapid Image™ Product Line is designed to support today's High Performance drives, featuring advanced SATA-2 Duplication Technology that can Capture and Wipe drives at validated speeds of 13GB/min. This advanced technology also prepares the User with the hardware necessary to take advantage of tomorrow's hard drive speed improvements, with the potential of 18GB/min transfer rates.

Operating Environment

:

Windows 7 Embedded Operating System

Hard Drive Support:

Offers native support for SAS, SATA, USB 2.0, USB 3.0 e-SATA and FireWire drives. Optional adapters are available to support IDE drives, Micro SATA*, 2.5", 1.8" IDE Notebook Drives*, ZIF drives*, and Flash media*.
* IDE drives are supported with an Optional IDE Drive Caddy or by Individual IDE Adapters.
* CF drives are supported with Optional CF Adapters
* Micro SATA drive adapters are only supplied with the 2.5" Cable-Free Drive Caddy.

Fast Drive Detection

:

Detects 20 drives in less than two minutes

Versatile "Suspect" Drive Ports:

Flexible design allows any port to be confi gured as the "Suspect" port.

Cable Free Drive Caddies: The unit offers a Cable-Free, Drive Caddy solution for quick and easy drive insertion, minimizing maintenance costs and wear and tear issues associated with use of cables. The unit is available with either 2.5" or 3.5" Cable-Free Drive Caddies. Both versions support Cable-Free insertion of eight (8) 2.5"/1.8" or 3.5" Form Factor SATA/SAS drives, accordingly.

Multiple Modes of Operation:

Single Capture: Creates "Mirror" image of the Suspect's drive.

LinuxDD Capture: Supports storing one or multiple Suspect drive images on a single "Evidence" drive using the standard Linux DD Segmented File Format.

E01 Capture: Supports storing one or multiple Suspect drive images on a single "Evidence" drive using the Encase® Forensics Segmented File Format. Rapid Image Forensic Units support the High Speed Capture of E01 Compressed Images.

IQ Copy: Optional Non-Forensic Format used to capture only the allocated data of a Suspect's drive, greatly reducing the time required to capture data. In addition, it can be used to duplicate drives for IT purposes such as backup, deploy and upgrade to larger capacity drives.

Multi-Session: Capture multiple Suspect drives simultaneously or run multiple operations simultaneously. Multi-Session supports the Acquisition of up to 10 Suspect drives simultaneously. Capture and Sanitize drives at the same time.

Network Storage Support:

Upload and Download images to and from a shared Network Storage media utilizing either the unit's native 1 Gigabit Ethernet interface or by installing a 3rd Party 10Gbit NIC Cards* for speeds exceeding 4GB/min.

Advanced Drive Controller Technology:

The units are designed with today's advanced drive technology which can take advantage of drives which support 6Gbps transfer rates.

Remote Connection:

The unit can be connected to remotely to control and monitor operations.

Logs and Auditing:

Store and print detail operational Event Log and Audit Trail information. The Audit Trail is saved in a PDF format using 128-bit password encryption protection

Easy Maintenance:

The Cable-Free Drive Caddies incorporate a low cost,easy to replace drive interface board for each drive bay.

HPA/DCO Support:

Unit features support for HPA and DCO.

Ease of use:

Offers an intuitive, User Friendly Interface with an 8" Color Touch Screen Display. No need for an external display, mouse or keyboard.
Specification:

Supply Voltage
100 - 240V / 50 - 60 Hz 400Watt
Universal Auto switching input voltage
Power Consumption

110W

Operating Temperature

5 degress - 55 degrees C

Relative Humidity

20% - 60% non-condensing

Net Weight

37 lbs

Case Dimension

21.7 x 14.1" x 8.9"

Operation System

Windows 7
---
Share this Product
---
More from this collection