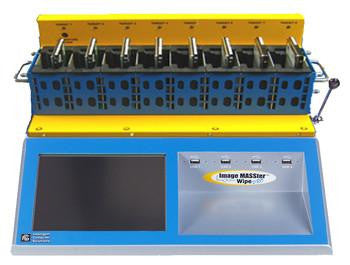 ICS Image MASSter 4000Pro IT 2.5" SAS/SATA/CF/uSATA Hard Drive Duplicator - (F-GR-4203-000B)
---
Questions?
Call us at Toll Free # 866-817-4094
The Image MASSter 4000PRO 2.5" is the next generation, fast and reliable, IT Duplicator based on the time proven ImageMASSter 4000IDE Series. The Image MASSter 4000PRO 2.5" comes as the perfect solution for the mid-size IT organization looking for all the benefits of an enterprise level hard drive duplicator in a compact and easy to use solution. This versatile unit supports the high speed duplication of up to eight (8) 2.5" SAS, SATA, IDE*, USB and e-SATA drives. Through the the use of an efficient, cable-free drive caddy system, users can change drives quickly minimizing the total time necessary for drive duplication or wiping processes. The unit operates at a top speed capability of 18GB/minute which easily handles the fastest drives available today and also allows the user to be prepared for tomorrow's future hard drive speed improvements. This comes standard with a 2.5" Drive Hose and Caddy to Support 2.5"/1.8" Laptop Drives and Stylus Pen.

*IDE drives supported with Optional IDE Drive and Host Caddy or by Optional Adapters.
Features
Extreme Speed:

The Image MASSter 4000PRO 2.5" is designed to support today's High Performance drives. Features advanced Duplication Technology that can copy, authenticate, and wipe drives at SATA-2 speed. This technology not only allows the unit to take advantage of today's High Performance drives but also allows the user to be prepared for tomorrow's hard drive speed improvements, with potential 18GB/minute transfer rates.

Compact size:

The unit's Small Footprint design saves work space.

Versatile "Source" Drive Ports:

Flexible design allows any port to be configured as the "Source" port.

Standard Drive Caddies:

The unit is available with either a 2.5"/1.8" or a 3.5" House and Drive Caddies. Both unit versions support cable-free insertion of eight (8) 2.5"/1.8" or 3.5" Form Factor SATA/SAS drives accordingly.

Multiple Interface Ports:

In addition to the native SATA/SAS ports, the unit is also designed with five USB 2.0 ports, one e-SATA port and one Gigabit Ethernet connection that allow duplication of USB devices and storing image files externally. One FireWire connection and one FAST SCSI connection are available with the purchase of the Optional Expansion box.

Modes of Operation:

Single Copy Mode: Make up to 8 copies of a single master drive or image file.
Multiple Copy Modes: The unit allows performing mulitple imaging jobs simultaneously.
Multiple Operational Modes: Copy, Hash and Sanitize drives (SAS/SATA, IDE, USB, etc.) simultaneously.
Hashing and Data verification: The unit supports CRC32, MD5, SHA-1 and SHA-2 algorithms for data verification for mirror image modes of operation.
Wiping/Sanitizing: Sanitize drives using multiple pass DoD standard or using single pass mode of operation.
Secure Erase: Erase data using the Secure Erase feature supported by many of today's modern drive.

Multiple Imaging Formats:

The unit provides multiple Duplication Formats:

IQCopy: which copies only allocated data, greatly reducing copy time. Automatically scales and formats partitions.
"Percent of Disk": copies all sectors including unused sectors and is independent of many Operating System or File System in use.
Drive Images: allows storing of multiple source images on a single hard drive or Shared Network folder using "Segmented" File formats or using the Microsoft Virtual Hard Drive (VHD) image format.

External Storage:

Images can be stored externally using Shared Network folder, e-SATA drives or USB drives.
Support for USB Duplication: The unit supports duplicating up to 5 USB devices.
Windows Embedded Standard 2009 Operating System (Based on Windows XP): The Image MASSter 4000 PRO runs on the Windows XP Based Operating System, providing flexibility and device compatibility support.

Unit can be customized for Multi-Language support.
Unit can be customized to individual's needs upon request.
Compatible with a wide range of PC peripherals.

Upload and Download Images to Network Storage Area: Images files can be uploaded and downloaded to a Network Storage Area allowing the user to take advantage of large storage platforms (SAN) for the purpose of processing and archiving images.

Built-in drive coolers with temperature sensors: Each of the Drive Housings has built-in cooling fans with temperature sensors to keep hard drives operating optimally.

Convenient and Easy Upgrades: Easily update Software through a USB port. Free Software Updates are provided periodically.

Logging: The unit records and saves detailed log information.

Intuitive and Easy to Use Interface: The unit provides an intuitive, 3 level graphical user interface. The Operational wizard allows the user to quickly and easily configure and begin operations. The Advance Settings can also be selected for low level control.

8" Full Color Touch screen: Built-in touch screen eliminates the need of connecting an external monitor, mouse or keyboard.

HPA (Host Protected Area): Unit has the ability to copy and wipe/sanitize hidden programmable areas which may exist on hard drives.

Easy Maintenance: The cable-free insertion mounting design uses a small, low cost, and easy to replace SATA/SAS interface board for every slot.

Remote Monitor and Control Network Application: The unit's Control Network Application software can remotely control and monitor from one to multiple duplicators that are connected to the network. User can perform all applications and run commands remotely.

Secure Operation: Unit provides the ability to lock settings for secure operation.
Options:
Optional Drive Caddies: With the use of the Optional 3.5" Host and Drive Caddy the Image MASSter 4000PRO 2.5" unit can also image eight (8) 3.5" SAS/SATA drives. The Image MASSter 4000PRO 2.5" unit can support up to eight (8) IDE drives with the IDE Host and Drive Caddy Option.

Open Drive Tray: Use of the Open Drive Tray provides a flexible drive mounting solution for non-standard Form Factor drives and allows mounting of different Form Factor drive combinations which include:

Flash Media such as Compact Flash, Memory Sticks, SD, Micro SD , Multi Media card.
Proprietary Caddy Enclosures
With the Optional Open Tray, drives are held in an up right position to allow better air flow.

Optional PCI-e Expansion Box: Equipped with 3 PCI-e one lane expansion slots* for upgradeability and additional device support. The expansion box will consist of the following:

One PCI-e SCSI 320Mbit/sec Controller
One PCI-e FireWire Controller with two (2) 1394B ports and one (1) 1394A port.
One PCI-e Express Card Reader Controller for use with Express Memory Card (not USB based) or other express plug in cards.

Individual controllers can be replaced with special purpose controller such as WiFi card. All additional special purpose controllers should be qualified by ICS prior to use.

*Only one PCI-e option may be used at a time.

Optional Barcode Reader Support: The unit supports the installation and use of an optional barcode reader.

USB Card Reader Support: Optional 3rd Party USB Card Reader Support allows the duplication of Flash Media such as Compact Flash, Memory Sticks, SD, Micro SD , Multi Media card, etc.
Specifications:
| | |
| --- | --- |
| Net Weight | 15 lbs |
| Dimension | 15.7" x 3.8" x 15.5" |
---
Share this Product
---
More from this collection