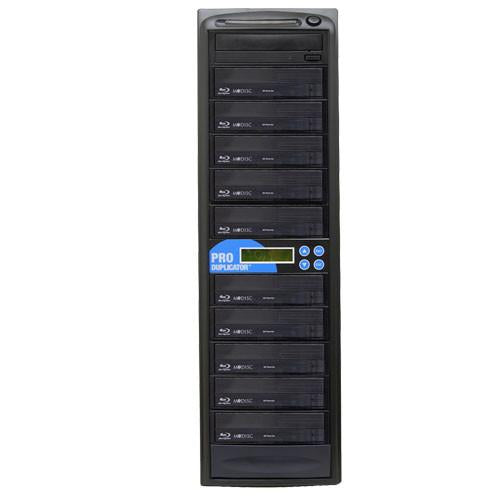 Produplicator 1 to 10 Blu-ray BDXL M-Disc Duplicator SATA Burner - ESBR10
---
The Blu-Ray Disc duplicator offers a high speed blu-ray burners with a high-definition optical disc burning quality suitable for anyone involved in disc duplication. The user-friendly LCD provides a simple interface with a 128MB buffer that burns Blu-Ray, M-Disc DVD, and CD blank discs at an optimal speed. Burning speeds are adjustable and other standard menu features are available for advanced users. Inside the copy tower itself, different Blu-Ray, BD-XL, M-Disc, DVD, and CD formats are automatically detected to allow stable and secure buffer under run protected burning. This machine supports a BD-XL and M-Disc technology. BD-XL is a multi-layer recordable disc that can hold a capacity of up to 128GB. The BD-XL comes in two formats, a Triple-layer which can hold up to 100GB capacity and a Quad-layer that can hold up to 128GB. The M-Disc Support is a technology that etches your data to an M-Disc Media that can record your data for over a 1000+ years. The professional quality and performance of this duplication equipment ensures a fast, reliable solution for duplication runs whether burning be performed at home, office, or studio.
A complete standalone

Blu-ray BD /

BD-XL / M-Disc

/ CD / DVD Duplicator 

with a 128mb buffer speed for high speed blu-ray disc duplication.
Supports BD-XL, a blu-ray disc with multi-layer recordable format that holds up to 128GB of capacity.It also supports M-Disc that etches your data and can store it for over a 1000+ years. (M-Disc media required)
Support BD-R, BD-RE, BD-R DL, BE-RE DL, BDXL, DVD-R, DVD-RW, DVD+R, DVD+RW, DVD+R Double Layer, DVD-R Dual Layer, Mini DVD-R, CD-DA, Video CD, Photo CD (Single & Multi-session), CD-TEXT, CD-Extra, CD-R, CD-RW, Business Card CD-R, 3-Inch Mini CD-R
Burning Speed: For CD 2-4 Minutes, For DVD 5-8 Minutes. For BD 30-60 Minutes. Does not copy protected disc (Rented disc or Store bought disc).
High-speed USB 2.0 connection: When connected to a computer using this external connection, one of the optical burner drives on the duplicator becomes activated as an external burner.
SMART USB 2.0 connection: When connected between the computer's HDD and duplicator's HDD allows the user to easily export and import disc image files (ISO file only) without the need of a physical, hard copy disc.(Note: the duplicator MUST already have a built-in HDD.)
M-disc, Write Once and Read Forever

Keep your data over 1000 years with M-Disc.

The Produplicator M-Disc Ready duplicators can carve grooves onto the rock-like surface of M-Disc for date security and longevity that has never existed before. Standard DVD s can suffer a decrease in quality overtime, where M-Disc promises superior quality for years to come.
You might feel like you're making a "permanent" backup of your files when you copy them onto a DVD or backup to a computer hard-drive, but the truth is these devices suffer from natural decay and degradation. Current DVD technology uses organic dyes and low laser power to make marks on the data layer of a standard recordable DVD. Over time, these marks become unreadable because organic dyes degrade when exposed to minimal levels of light, heat, and humidity. This means all the data you thought was safely stored could be lost because the discs you used have an average lifespan of only about 3 to 5 years! Why would you risk your data based on an average; hundreds of discs taken into account in that average were corrupt and unreadable after only a few months. With Millenniata, we don't subject you to the possibility of losing your data. When we say write once and read forever, we mean it.
How does the M-DISC compare to other DVD sand optical discs?
Millenniata utilizes chemically stable and heat-resistant materials that are not used in any other DVD or optical disc! These materials cannot be overwritten, erased, or corrupted by natural processes. The normal laser energy employed to write DVDs or CDs cannot successfully write to the patented inorganic and synthetic materials used in the M-DISC
Data is stored on the M-DISC by physically altering the recording layer and creating permanent voids or holes. DVDs and other optical discs use organic dyes that break down over time, resulting in corrupt and unreadable data. These organic dyes are highly susceptible to temperature, humidity and even sunlight, starting to fade and decay the moment you record data.
Millenniata's recording process utilizes higher temperatures and as much as 5 times more energy than any ordinary optical disc. This allows for permanent engraving on the M-DISC, what we refer to as pits. These pits are not affected by temperature, humidity and sunlight the same way dyes are, because the pits are permanent. This means when you burn data onto the M-DISC, it will last as long as you need it to.
Click image to Enlarge
How do we know?
The Naval Air Warfare Center at China Lake tested the M-DISC against the best conventional archival discs on the market produced by Mitsubishi, Verbatim, Taiyo Yuden, Delkin and MAM-A. The conditions were based on the 85°C/85% relative humidity industry test standard, supplemented with full-spectrum sunlight. The Navy's goal was to simulate conditions at sea or in combat, which experience has shown to be a disc killer. The conclusion? The M-DISC suffered no data degradation at all while discs from Mitsubishi, Verbatim, Taiyo Yuden, Delkin and MAM-A failed after the stress period.
The Naval Air Warfare Center at China Lake has published these conclusions in the study, "Accelerated Life Cycle Comparison of Millenniata Archival DVD." Conventional optical discs subjected to the same level of testing failed within 2 days while the M-DISC was not affected.
Naval Air Warfare Center Report -

Full Report

Summary Report

Notice of Proposed Sole Source Procurement - State of Utah

Tech Note - Data Layer Stability

Tech Note - Pits are Better

Tech Note - Rock-Like Layer
How can I access my data on an M-DISC?
Once written, the M-DISC can be read or played on any quality DVD drive that supports the common DVD+R/RW format. Most DVD drives that were manufactured after 2005 and almost all Blu-ray or BD drives support this format.
Specification:
Writer Target

SATA Blu-ray
BD/BDXL/M-Disc/DVD/CD Burner

Reader/Source

BD-ROM

Hard Disk Drive

Optional

Interface

Serial-ATA (SATA)

Partion Naming

Up to 8 Characters Per Partition

Formats Supported

M-DISC
BD-ROM (SL/DL)
BD-R (SL/DL/TL/QL/XL)
BD-RE (SL/DL/TL)
DVD-ROM (SL/DL)
DVD-R (SL/DL)
DVD-RW
DVD-RAM
M-DISC
CD-R/RW/ROM
CD-DA
Video CD


Firmware Upgradeable

Yes

Burn Proof Support

Yes

Power Supply

AC 110/ 230V

Operating Temperature

5° C to 45° C

Non-Operating Temperature

-30° C to 60° C

Operating Humidity

15% to 80% R.H.

Non-Operating Humidity

10% to 90% R.H..
**This machine does NOT copy protected BDs, DVDs, or CDs!
3 Years Labor & 1 Year Parts Warranty

---
Share this Product
---
More from this collection