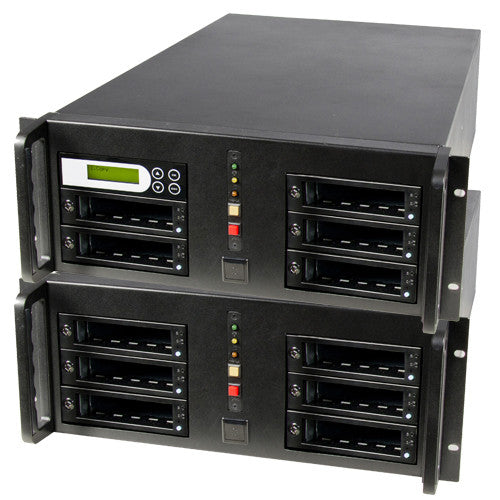 1:10 Expandable SATA Hard Disk Drive / Solid State Drive (HDD/SSD) Rackmount Daisy Chain Duplicator/Sanitizer - High Speed (150MB/sec) - (KV500-DC-11)
---
Questions?
Call us at Toll Free # 866-817-4094
Clones hard disk data sector by sector.
Supports 9TB or greater hard drive capacity.
High performance up to 150MB *(Real performance depends on HDD's speed) transfer speed per second.
Supports SATA revision I/II/III (1.5 / 3.0 / 6.0 Gbps) drives
Supports all major OS: Windows, Linux, RAID, and Other stand-alone systems.
Supports various HDD interfaces: 2.5"/3.5" SATA HDD and SSD.

This is an expandable CRU Rack-mount Duplicator, which can support between 1 to 254 targets CRU HDD copy simultaneously without speed degradation.
There is no set up or software installation required and it is simple to hook up with any other KV500-DC-11 unit to become a larger target duplicator.


Flexibility to expand target without slowing down speed

Requires only a simple hookup to link each single unit together in order to expand the targets
Supports All Partition Format for Duplication

Easy to install and expand by stacking all the duplicators in a sturdy server cabinet.
Impeccable efficiency

With up to 135MB/s transferring bandwidth, it is the greatest for industrial use. Each SATA interface is independent, no matter how many targets you would like to duplicate, the speed stays the same and doesn't decline. 9 GB per minute is far beyond PC-based duplicators.
Supports All Partition Format for Duplication

Bit for Bit Duplication copies all kind of data format Able to proceed Systems & Files Copy, when device is NTFS, FAT16/32/64, Linux(ext2/ext3/ext4), Mac(HFS/ HFS+/ HFSX) format, to greatly reduce copy time.
4 ways of Sanitization

1.Quick Erase: Takes few seconds to complete
2.Full Erase: Erase the complete HDD
3.DoD Erase: Complies with the U.S. Department of Defense's standard of erasing.


4. Secure erase: A National Institute of Standards and Technology 800-88 accept technique for properly purging hard drives. This method is supported by almost all modern SATA HDD.
Event Log

The operation info including operating progress, speed, and even the capacity, model name, S/N of HDD are ALL recorded! That means you can look at all the record when you need to track for any issue. It's so much convenient for trouble shooting, work responsibility clarification, exporting testing report, work management.
It can save up to 130,000 piece of log. One instruction onto one HDD is recorded as one piece of log. (e.g. duplication from 1 HDD to 21 targets will be recorded to 21 pieces of log)


PC-Monitoring

PC-link is absolutely perfect for MONITORING the work progress during operation. It shows all the information, including writing speed, operation time, percentage of completion, etc. for EVERY PORT, which is a powerful tool for sorting out the lagging writing HDD and keeping the operation in most efficient. All the information you need will be shown on screen of PC.

1. It's able to monitor duplication status from PC while duplicators are connected to it.
2. "iSecuLog" shows and records the brand name, model, S/N, duplication time, result of every HDD from all the ports, the info of both sources HDD and target HDD are recorded.


3. Slow R/W speed HDD detection: lagging HDD can be easily sorted, because user can see the duplication speed of every port by. "Event Log"
4. To select a period of time in order to export part of the log data. Just one click, the data will be exported into .txt file and saved on PC. The date of export is the file name. (e.g. 20130308.txt)


5. It can save up to 130,000 piece of log. One instruction onto one HDD is recorded as one piece of log. (e.g. duplication from 1 HDD to 21 targets will be recorded to 21 pieces of log)
Specification:

Target

Expandable up to 254 targets

Buffer

128MB / port

Maximum Speed
Supported

8.1 GB/min(135MB/sec)*(Real performance depends on HDD's speed)

Copy Format
All Partitions/ Whole HDD Copy/Percentage copy supportsall Formats

Quick Copy: (Data & System) supports FAT16/32/64,
NTFS, Linux(Ext2/3/4), HFS/HFS+/HFX
Operating Type

Stand-alone operation

Display

2x16 backlight monochrome LCD Display

Status LED
Real time indicator: Yellow(power), Green(pass),
Red(fail)
Control Button

4 push buttons(Up, Down, OK/Confirm, ESC/Exit)

Copy Modes
Quick Copy, All Partitions Copy, Whole HDD Copy,
Percentage Copy
Bad-Sector

Skip Bad sector copy by self-setting tolerance

Compare Function

Bit-by-bit data comparison

Erase Modes

Quick Erase, Full Erase, DoD Erase, Secure Erase

PC Monitoring

Real-time PC monitoring

Log Report
Management
Records all details including HDD SN, model No,
operation time and result.

Log report file can be generated via HDD source port
OS Supported

All (Windows, Linux, RAID, Other stand-alone systems)

HDD/SSD Compatible
Any HDD with connection allowing to access CRU DX115
DC Frame enclosure.
Advanced format

Support MBR, GPT, advanced format HDD (9TB above)

Power
Support automatic power control.

Power supply: Adjustable voltage 115V-240V
Temperature
Working range: 5°C ~ 45°C; Storage range: -20°C ~
85°C
Humidity

Working range: 20% ~ 80%; Storage range: 5% ~ 95%

Certification

FCC, CE, RoHS
1 Year Parts Warranty

---
Share this Product
---
More from this collection