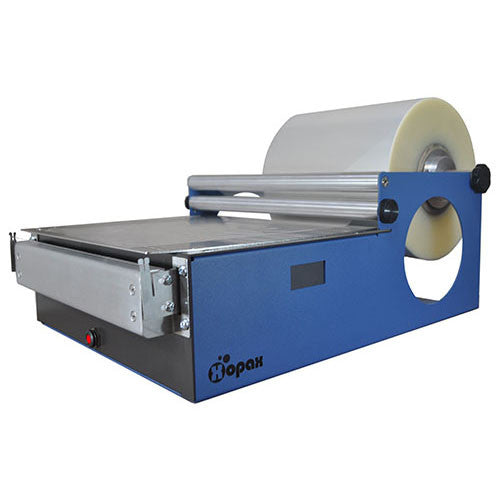 Xopax Over Wrapper for CD DVD Blu-ray Disc Case
---
Xopax machines are designed to professionally wrap any suitable product with clear polypropylene film. All of our machines will yield the same tight, folded corner wrapping with minimal cost per wrap. Each machine is built in the USA and backed with the best warranties in the industry. The PX series features factory set heating and a complete one year parts and labor warranty.
The PX12 and PX20 series are basic models while PXC12 & PXC20 are series with Temperature Control for CD DVD Blu-ray Disc Case. All heat settings are factory set and are perfect for jobs using standard 1 mil film. Built to last a life time from only the best materials.
Simple and Easy to Operate
When we started designing the Xopax we set out to make it as simple and easy to operate as possible. It takes a little practice but we believe that anyone can learn to do this. We highly recommend that you allow yourself at least 100 boxes to learn the basic steps. We also have great training videos to help you through this.

Very low cost per wrap. Built to last a lifetime
We set out to be the lowest price machine of its kind.

What can you wrap?
CD, DVD and BluRay Cases
Handmade Soap
Perfume
Cosmetics
Pharmaceutical
Tobacco products
Tea Box
Candle Box
Specifications:
Finish Type
Professional Finish Square Edge Overwrapping
Poly Roll
Polyfilm Roll
Case Types
Wraps standard CD Jewel Box, DVD & Blu-ray cases
Packaging Film Cutting
Automatic
Voltage
120 VAC
Wrapping Material
Bi-Oriented Polypropylene (BOPP)
Cutting Wire
30 gage Nicrome wire
Maximum Film Width
12"
Dimension (WxDxH)"

14" X 17.3/4" X 7 1/8"

**For PX12 120Voltage




22" X 17.3/4" X 7 1/8" 

**For PX20 120Voltage




14" X 17.3/4" X 7 1/8" 

**For PXC12 120Voltage




22" X 17.3/4" X 7 1/8" 

**For PXC20 120Voltage

Weight
27 lbs
---
Share this Product
---
More from this collection